4 phases of the Double Diamond Model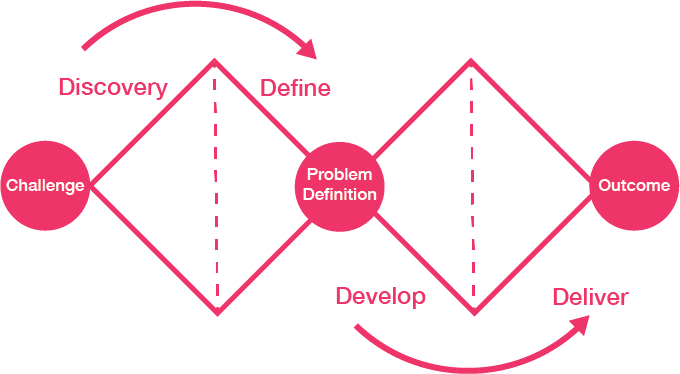 The British Design council in 2004 came up with the idea of the double diamond design model. The purpose of the model is to help designers and creative people follow a process that guides them through the steps of going from concept to delivery. The British Design Council formed this design model through a long study that involved large companies with companies like Lego, Sony, Starbucks and Microsoft.
When they conducted the study they found that most people in those organisations followed a similar way of thinking that started from discovery all the way through to delivery. Although each organisation called it something different broadly it was similar and so the design council brought all of this together to formed the double diamond approach, let's look at the phases of this approach.
The 4 Phases of Double Diamond approach
The 4 phases are:
Discovery – understanding the problem
Definition – defining the problem
Development – developing possible solutions
Delivery – choosing and developing the solution
This is not a linear journey, a person could go between these phases as they may discover something, then whilst defining the problem they may need to understand a different problem so they may need to go back and research again. The first diamond of the double diamond is problem finding, it is about finding out what the problem is and then distilling it by defining it. The second part of the diamond is problem solving, now that the problem has been defined how can we find a solution and deliver on that problem.
Discovery
The first step of the double diamond is discovery, learning about the problem and starting the initial research into the challenges and problems that need to be solved. This can be done through user research and market research. Discovery can produce lots of different outcomes, sometimes you can have a discovery which you don't find out that much other times you can find you're overloaded with tonnes of data and research.
If you end up snowed under with all of this information make sure you know how to manage and organise all of the data. You can store this information through empathy maps or customer journey maps.
Definition
At the end of discovery, you should have a tonne of insights. The definition stage takes all of these insights and elaborates on it. The purpose of the definition is to refine your initial assumption based on the learnings from the discovery. The point of doing this research is to challenge your initial assumption so if you find in the discovery that the problem is different to what you expected then you can change the following phases.
Development
This phase of the double diamond does have a few names, Virgin Atlantic Airways call it "design", Microsoft calls this "implement", in the UK Government it is called "alpha". In development, you are trying to come up with different answers to the problem identified in the define stage. As part of this phase we may do sketches, wireframes and prototypes to visualise different solutions and test them with users. We will collaborate with a range of people and co-designing with people.
Delivery
From the development stage, you'll have a few different ideas you want to try out. You will want to try out those ideas on small scale and then when you see a trend for the ideas that aren't working you will want to remove them and take forward the ideas that do work.
Divergent and convergent thinking
What you'll see when using the double diamond approach is that you'll be using two types of thinking, which are:
Divergent thinking – where you consider anything and you're open to new ideas. This will be in the discover and develop phases
Convergent thinking – when you're trying to define and deliver your solution you'll then be thinking narrowly, focusing on a few ideas to try and solve your problem through solutions
Design principles
Within the double diamond, the framework is the way in which it should operate. It consists of four design principles:
Iterate, iterate, iterate: to avoid errors and risk make sure to keep on iterating your designs to build stronger design solutions
Put people first: your people (or users) should be at the forefront of your designs, understand their needs, strengths and aspirations.
Collaborate and co-create: learn and work with others, be inspired by what others are doing.
Communicate: get people involved, help them understand the problems you're trying to solve and use them to generate more ideas.
Further reading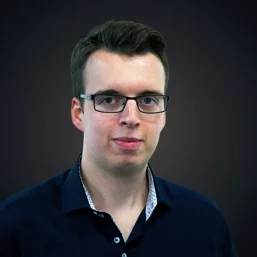 Written by
Michael Gearon
Michael Gearon is a Senior Interaction Designer at Government Digital Service (GDS) in Cardiff. Michael Gearon is one of the authors of The Tiny CSS Projects book, published by Manning Publications. Previously Mike was a product designer at the GoCo Group including GoCompare, MyVoucherCodes and WeFlip. As well working for brands in South Wales like BrandContent and HEOR.